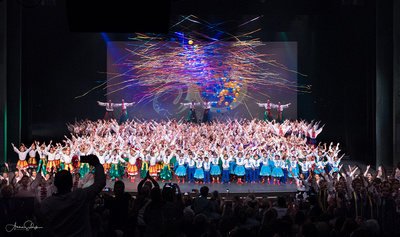 _7509535

Fedir Danylak (Barvinok)
I would like to write a review ofAnna and her photography; however, I am afraid there will be not enough space to express my LOVE to her personality and the most important to her work, her amazing PHOTOGRAPHY.Every time she takes pictures at the Barvinok Annual concert or any other performances, I am always desperate to see it, as I know that she would catch the moments that I envision in my creative mind, but I cannot see it real during the concert.Anna, your pictures are AMAZING, BREATHTAKING, GORGEOUS,OUTSTANDING and... there are no words to describe or express my excitement about how I feel when I look at your MARVELLOUS work. In your portfolio, on the first page, you said: "With photography, I find that I actually get to "stop and smell the roses", or more like...stop and SEE life." I would just use that say and rephrase it: "...looking in your pictures, you bring any moment to life and you draw spectators into it so that the moment that was captured by your camera stays alive forever". Your magic eye and then the camera's touch makes all moments valuable and vulnerable, so that it stays in people's memory forever. Thank you Anna for everything you saved in your photography. You are a real PHOTOGRAPHY MAGICIAN...!!!
Fedir Danylak, Artistic Director of Barvinok Ukrainian School of Dance

Anna Sudyk Photography
Marina Correia

Anna was AMAZING to work with!! She was super enthusiastic from when I reached out about the concept to the end of the shoot itself. She brought to life the vision I had in mind and she brought her own unique perspective to capture even more amazing photos. She made me feel comfortable throughout the entire experience by giving excellent instruction on the best way to pose as well as through the constant jokes she made. Overall it was a wonderful experience and I would love to work with Anna again :)

ASP_0788
Boris Hemon

Whenever I see Anna walking with her camera, I know that the essence of the event will be beautifully captured due to her artistic ability and sensitivity to catch sight of details. The viewer of Anna's pictures can experience the energy, the intensity and the soul of the photographed event numerous times ... long after it is over. I'm very pleased and always touched by her hard work. Viewing her many photo albums from church events, dance performances and different community gatherings, I appreciate the powerful moments that she notices and captures. Looking at Anna's photos, you don't only see an image, but also a story behind it. Anna's love for photography leads her to go out of her way to experiment different techniques which can be offered to her clients.

I would definitely ask Anna to photograph any of my future events as I know that she would create a masterpiece which will last forever :)

_ASP4376_ME
Mala Shaibani

Working with Anna was such a pleasurable experience. My husband and I felt so comfortable and at ease throughout our shoot. We could not be more pleased with the outcome of our photos. We were amazed at how Anna's photography beautifully captured a special moment in time for us.

Anna has the ability to see life through the lens of a camera and easily captures the beauty of her subjects. Her creative ideas and varied portfolio easily demonstrates her knowledge, skill, and ability as a photographer.

I highly recommend working with Anna, no matter what type of photography you are interested in, do not hesitate! Her professionalism and openness to incorporate your suggestions combined with her knowledge, skill, and true love of photography is sure to produce an outcome you will be more than pleased with.

ASP_2902-2
Aneta Piwonska

Anna was photographer at my wedding. She is very professional and creative. Every picture was perfect. Each photo reflected the atmosphere of the wedding. You can see she has the passion for photography.
We were very happy that she was the our photographer.
_7508203
Nadiya Kostiv

Anna is a delight to work with! I have worked with Anna on multiple occasions. She took photos for my 50th birthday and for my business as well. Anna is very passionate about photography and has amazing attention to creativity and detail. She notices the small things and is a talented photographer. Her photos are always beautiful and unique.
Highly highly recommend - you will never be disappointed!